Saturday, May 5, 2018   –   SPECIAL EVENT !!!
Presented by Jerry Talley,
master survey designer and consultant
Description: Introduce yourself to the basics of sound survey design, question construction, data analysis and data presentation. Jerry will also explain how to use surveys to expand the scope of services you can provide to your clients.
There are 2 reasons why you might consider this workshop:
1. You would like to increase the quality of your work for a particular engagement.
2. You would like a way to constantly expand your understanding of organizational dynamics so you can deliver greater value in future engagements.
KEY TAKE-AWAYS…
Use surveys to expand your skill set and your professional offerings
· Design surveys that will drive decision making
· Some of the special tools within Survey Monkey to enhance your surveys
· Structure questions to reveal even unconscious beliefs
· Analyze survey data without being a statistician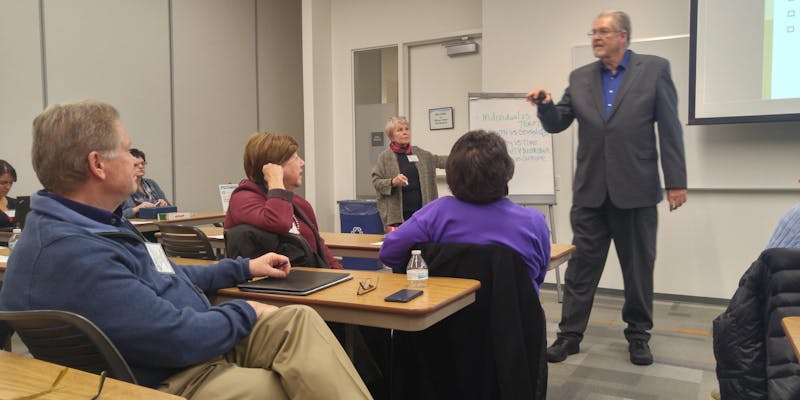 Cost: $30
(plus $5 to park in campus garage)
Class Size: 25
 Speaker's Bio:  Jerry Talley
Over the last 35 years Jerry Talley has had over 450 consulting engagements in organizational development.  He has worked with companies mostly in Silicon Valley, but a few as far away as New York and New Zealand.  His clients have come from high-tech software, hardware, pharmaceuticals, City and County government, manufacturing, hospitality, health care, defense, the intelligence community, utilities, telecomm, labor unions, publishing, entertainment, aeronautics, commercial construction, banks and credit unions, higher education, consulting firms, mental health facilities, numerous not-for-profits, and one organic grocery store.
His current practice spans knowledge capture, work process analysis, culture change, group process, leadership, and advanced problem solving, but the common thread is unraveling problems of inordinate complexity.
Prior to his consulting career, he was an Adjunct Professor at Stanford University for 15 years, an instructor in family therapy at Santa Clara University, and a couples therapist for 10 years.  He also worked on a psychiatric ward for 4 years (excellent experience for organizational work)
Map Unavailable
Date/Time
Date(s) - 05/05/2018
10:00 AM - 1:00 PM
Location
San Jose State University